Sunday, June 15, 2008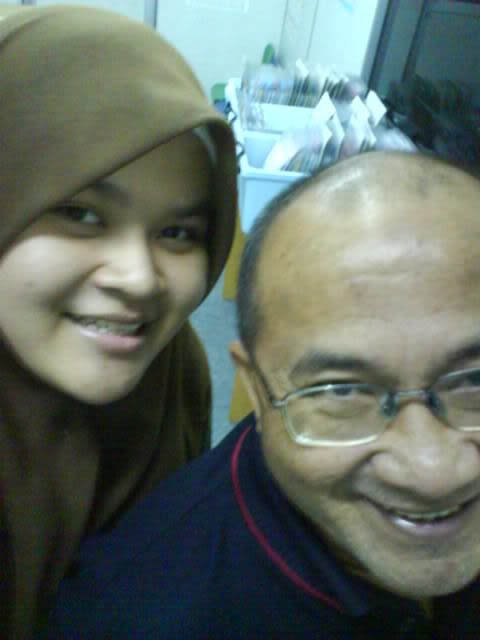 15th June 2008 = father's day :')
Bapakku ,,happy father's day !!!Sayang bapakku ini ..hehehe ;DD
You take care of yourself haa because you know you can't count on me kan ..
I'm such a cruel daughter but it just wasn't meant to be.
anyhow pun ,,i love you okayy more than u love me ?teehee ;DD
:-*
cukup smpai situ jek drama kite ..hehehe
life aku arini sgtlah memboring sehingga aku tdo 2 kali sehari .hahaha !!makku kakakku bapakku menjadi pelik dan mula menjadi marah .ape perlu bwat ?tdo itu satu kewajipan !!=PP
then aku di ajak ke rumah yaii untuk mengisi masa lapang dan di rumah sane aku bermain same itu aqeem yg sgt notty tp cumel ogeyhh ;)
main lah sehingga petang dan emak mula saket kepala because she just cannot stand with kids .lil kiddo are the cutest you know .i love kids .cehhhh since when ahhh ?gile btl aku !=P

that's the very weird of me because i laughed a lot today .mann ,,what will happen next ?something that hurts me and disappoint me ke ?awww please don't punish me ohh God .i regret with all the things i've done before and please don't make me feel this way sampai hujung nyawa ku ..
anyway ,,in life there are winners and there are losers kan ?i hope i'll be the winner because i've been the loser dr kecik .aku benci !:(
and you know what ..for all of the sudden ,,aku rindu same itu maryam dohhh !!hahahha =P alaa die pun membusy dgn hidup dia .shitsssss ;DD
and you cicak ku ,,i hate you for not being honest to me !!!!!!!!you liar !!!you talk shits .you said u wanna go online .so we can chat lahh bodo .tp kau tade sepjg aku mengonline dan aku layan babi ku sayang itu .sebaek die syg aku si babi itu laa ..i love u babi with all my heart !!haha :P
Sigh !why can't he hunger for me the way he does for food kan ?isykk kamooo ..aku rindu mentexting kamoo tawuuuuuuuuu .and because of u i hate klcc .there place where we 1st time met and IT WAS the end of our stupid r/ship ..goodbye friend ......sob2 :(
aku sedih laa ,,i need food !!ohh nooo !!!my trouble is that everything reminds me of food .what the hell fire ..no wonder i'm getting fatter and fatter and my lovely kakak pun membenci aku .cheeiitttt ...yess yesss ,,food is what i'm craving for !!!come to mama !!;DD